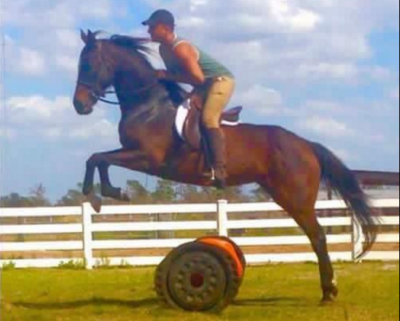 Equestrian Sports History
"Equestrian sports originated over two thousand years ago when the Greeks introduced dressage, a highly regimented training program to prepare their horses for war. [1]
Later, during the Middle Ages, cooperative effort between horse and rider further developed with the introduction of the three-day event, also known as eventing.
This triathlon consists of the original Greek dressage, plus cross country and show jumping. Dressage requires a specific sequence of movements, whereas cross country demonstrates physical endurance and trust between horse and rider while clearing obstacles. Lastly, show jumping tests the technical jumping skills of the horse and rider. Each of these three facets would prepare horse and soldier for situations they might encounter during war.
In time, the same practices evolved into competitive sports as we know them today. The extensive training required to attain the superior skill, cooperation, and trust between human and horse earned them entry as prestigious Olympic sporting events.
Over the years, numerous other equestrian sports also evolved. Some are competitive in nature and some are not. In any case, the cooperation between horse and rider is often a beautiful bonding experience. However, sometimes the human's desire to win competitive events may lead to abuse of the animal. The value of a prize, or merely competition itself, can supersede humane treatment." (excerpt from "A Healing Haven")
At RVR Horse Rescue, the value of the relationship between a human and horse is our first priority. After the rehabilitation is complete, many of our rescues go on to perform beautiful acrobatic dances, as our trainer Sergio demonstrates in the photo with RVR resident, Diamond.
[1] Wikipedia. "Horses in warfare." https://en.wikipedia.org/wiki/Horses_in_warfare (accessed 8/22/15).
Article by [email protected], Author of "A Healing Haven- Saving Horses and Humans at RVR Horse Rescue" and "A New Home for Dominick"
https://rvrhorserescue.org/wp-content/uploads/2021/09/Sergio-and-Diamond-e1464537589488.png
332
400
lcameron
https://rvrhorserescue.org/wp-content/uploads/2021/05/RVR-logo-300x125.png
lcameron
2021-09-14 14:18:53
2021-09-14 16:52:23
Equestrian Sports History