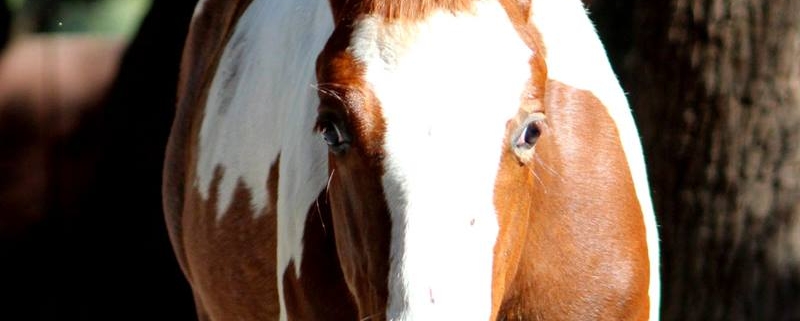 If Second-Chance Horses Could Talk
Who knew that horse rescue was even a "thing"? I didn't.
Sure, I'd seen my share of television advertisements of pathetically thin canine or feline fur balls, with sad, droopy heads and glistening puppy-dog eyes. Small animal shelters have done a good job of getting in front of the public and exposing the dirtbags who abuse dogs and cats. But horses?
When my husband and I first moved to Florida, I needed things to do. Our family and friends were now a thousand miles away, forcing me to find a new path. When I first stumbled upon RVR Horse Rescue in an article in my local newspaper, it seemed like an interesting cause and a perfect opportunity to get involved.
My horse experience was essentially none, so when I showed up at RVR as a novice volunteer, I was thoroughly out of my element and tense about being in the enclosures with the enormous, yet majestic, beauties. But my desire to help the abused and neglected horses was strong enough to overcome my apprehension, so I continued to return.
I quickly realized RVR was truly a special place with a combination of hardworking, caring volunteers and horses who remained peaceful and loving, even after being abused by prior owners. I was in search of my next writing project with a "triumph over tragedy" theme, and I immediately felt that the story of RVR and the remarkable outcome of some of the cases was a perfect fit. I was delighted when Shawn Jayroe, the owner and founder, agreed to a book venture.
During our initial discussions, I was surprised to learn that the very people who were helping the abused animals were actually being helped themselves in incredible ways. The project quickly morphed into an amazing testament of how the horses were actually helping their caregivers heal in various ways. If the horses could talk, I believe they would say, "Your kindness fills my heart with love, peace, and hope that I will breathe back into your soul."
A Healing Haven
Every person had faced difficult challenges that they overcame over the course of interacting with the horses. Many of the stories were included in the final product, A Healing Haven – Saving Horses and Humans at RVR Horse Rescue.
Animal lovers raved about the book's focus on the beautiful relationships and positive outcomes. The underlying issue of animal abuse, especially in the equine world, was a wake-up call for those unaware, as I had been. New laws are finally emerging to make animal abusers responsible for their actions – an overdue and welcome change for animal lovers.
At RVR Horse Rescue, the resiliency of our mistreated creatures continues to amaze and inspire us. Their capacity to love and trust after their recovery sets a wonderful example for us humans.
If rescued horses could talk, I believe they would say, "Thank you for being someone who cares. I love you." But really, they don't need to speak because they say it all without whispering one word.
Baby Luca's video below is just one example of so many beautiful endings. LIKE us on Facebook to follow our incredible stories.
Watch Luca's incredible story here!
Article by [email protected], Author of "A Healing Haven- Saving Horses and Humans at RVR Horse Rescue" and "A New Home for Dominick"
https://rvrhorserescue.org/wp-content/uploads/2021/09/Luca-Now.jpg
960
800
lcameron
https://rvrhorserescue.org/wp-content/uploads/2021/05/RVR-logo-300x125.png
lcameron
2021-09-14 14:13:53
2021-09-14 16:53:51
If Second-Chance Horses Could Talk