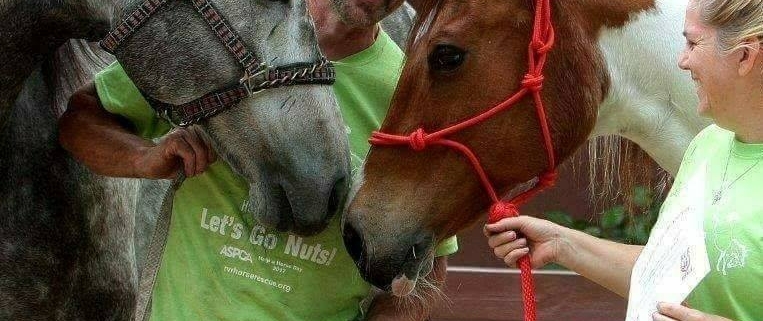 Responsible Pet Owners Month
With February as Responsible Pet Owner's Month, it's a perfect opportunity to salute responsible pet owners. Most of us remember the euphoria of getting our first pet and the thrill of every pet thereafter.
At RVR Horse Rescue, our success is dependent on finding loving adoptive homes for our rehabilitated horses. Every adoptive family allows us to rescue another horse in need.
The Long Haul
But what happens after the thrill of adoption wanes? As humans, our lives are ever-changing. How a pet fits into our lifestyle sometimes becomes challenged. The lifelong commitment to a dog or cat is a lengthy 8-20 year commitment. That's significant enough, but the commitment to horse ownership is even greater. The horses' potential 35-40 year lifespan cannot be taken lightly. As pet owners, we need to seriously consider the long-term ramifications of any pet, but especially the long-lasting equines.
Advantage of Senior Horses
One excellent way to make a shorter-term commitment while still enjoying horse ownership is to adopt a senior horse. Twenty year-old equines are considered seniors, but most still have many years of good life left. Many seniors are more mellow and tolerant than their younger counterparts.
RVR Horse Rescue's "Save our Seniors" program promotes the adoption of senior horses as pasture pals or as barn buddies for training novices on grooming and other horse handling.
Whatever your choice of pet, make an informed choice.  Doesn't every animal deserve a lifelong commitment?
Coming Soon! SAVE OUR SENIORS! Stay Tuned!
Featured photo: Marji Lexton of Kindheart Photography
https://rvrhorserescue.org/wp-content/uploads/2021/09/Stackhouse-and-horses-adoption.jpg
760
763
lcameron
https://rvrhorserescue.org/wp-content/uploads/2021/05/RVR-logo-300x125.png
lcameron
2021-09-14 15:35:47
2021-09-14 16:41:42
Responsible Pet Owners Month