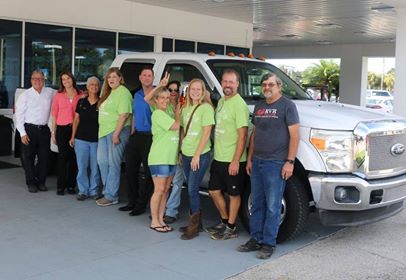 RVR Horse Rescue is Back on the Road!
Campaign to attain truck is successful!
Riverview, FL – When their truck was no longer reliable to rescue abused and neglected horses, RVR Horse Rescue began borrowing trucks of generous neighbors, but quickly realized a dependable vehicle of their own was a necessity.
A $10K grant from the ASPCA was the catalyst that sparked the full-fledged campaign to their supporters. When those donations were tallied and added to the grant funds, there was a sizable pot to purchase the vehicle needed.
RVR Horse Rescue set the next challenge before the local truck dealerships… Who would provide the best vehicle for the value?
Without hesitation, Bartow Ford stepped up with a beautiful truck, suitable for towing the precious cargo.
The purchase of the vehicle was an amazing effort between the ASPCA, RVR donors, and Bartow Ford.
This truck is just one more example of how people can change the world when they work together.
For more information, please visit RVRHorseRescue.org.
About RVR Horse Rescue
RVR was founded in 2004 by Shawn Jayroe and received 501c3 status in 2011. RVR specializes in taking in the worst cases of abuse and neglect. Over 180 horses have come through RVR's gates suffering from starvation and physical wounds of abuse. At RVR they are rehabilitated and re-homed with loving families. Horses whose age and health status make them less adoptable remain at RVR in the loving care of rescue volunteers. Horses that arrive at RVR too late to be saved or who are terminally ill are comforted by the volunteers during their remaining time. RVR is an entirely volunteer run organization.
To find out more, please visit www.rvrhorserescue.org or www.facebook.com/rvrhorserescue.
https://rvrhorserescue.org/wp-content/uploads/2021/09/ASPCA-Grant-Picking-up-Truck.jpg
280
406
lcameron
https://rvrhorserescue.org/wp-content/uploads/2021/05/RVR-logo-300x125.png
lcameron
2021-09-14 15:20:32
2021-09-14 16:44:22
RVR Horse Rescue is Back on the Road!