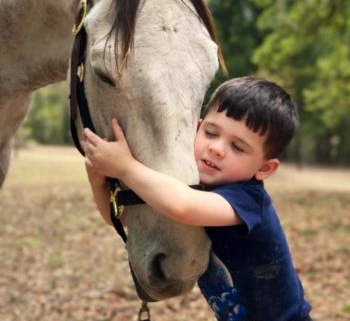 Let's face it, the average family looking to adopt a horse (or any animal) doesn't have the financial means, medical know-how, or time to rehabilitate an injured one. There are many other healthy choices that don't come with the extra baggage.
Sadly, injured thoroughbreds are no longer useful to their owners, once they can no longer race, but their injuries also make them unadoptable. These ex-racers are too often left in a black hole.
RVR Horse Rescue has come to the aid of these horses in need. Through their association with Tampa Bay Downs, RVR has been rehabilitating and rehoming injured or retired racers for several years. In 2016, they received accreditation from the Thoroughbred Aftercare Alliance (TAA), allowing them to help even more.
The thoroughbreds' stunning looks and grand stature make them fan favorites at RVR. Silver Knight is one example of an ex-racer who recovered at RVR Horse Rescue and awaited a new life.
Chantel Miller's teenage fantasy of owning a large dapple grey horse, named Lancelot, was inspired by the movie First Knight. It was a dream that stayed locked in her heart for years, until one day shortly before Christmas. She joked with her husband, saying "I sure would like Santa to bring me a horse next year." To her surprise, he replied, "This summer I will build you a stall and we can get you a horse next Christmas."
Later, after seeing horses for adoption at a local flea market, the dream sparked back to life. The older horses at the flea market weren't a match for the young family, but Chantel realized she wanted to adopt a rescue horse, rather than purchase one.
After her friend referred her to RVR Horse Rescue, Chantel spoke with the adoption coordinator and learned Silver Knight had just become available for adoption. She rushed over to meet him and fell in love. Her knight in shining armor, Lancelot, had come to life in Silver Knight.
After the adoption, Silver settled in with his new farm family that includes an eclectic mixture of a dog, a cat, two alpacas, a mini donkey, a mini horse, and a comedic turkey. His human family loves their new addition, but the most special surprise is the instinctive and profound connection between Silver Knight and his new little brother. Seeing Silver enjoy a snooze while wrapped in the warm embrace of little, loving arms conveys a depth deeper than words can reach.
The incredible folks at RVR Horse Rescue have worked their magic yet again by giving Silver Knight a new chance at life. But these happy endings are only possible with the help of caring families, like the Miller's, who open their hearts and homes to rescue horses who need a forever family.
Photos: Chantel Miller Photography
https://rvrhorserescue.org/wp-content/uploads/2021/09/RVR-Rescue-horse-Silver-Knight-and-his-new-brother-photo-credit-Chantel-Miller-Photography-e1491593117186.jpg
467
350
lcameron
https://rvrhorserescue.org/wp-content/uploads/2021/05/RVR-logo-300x125.png
lcameron
2021-09-14 15:11:22
2021-09-14 16:45:31
Into the Arms of Love